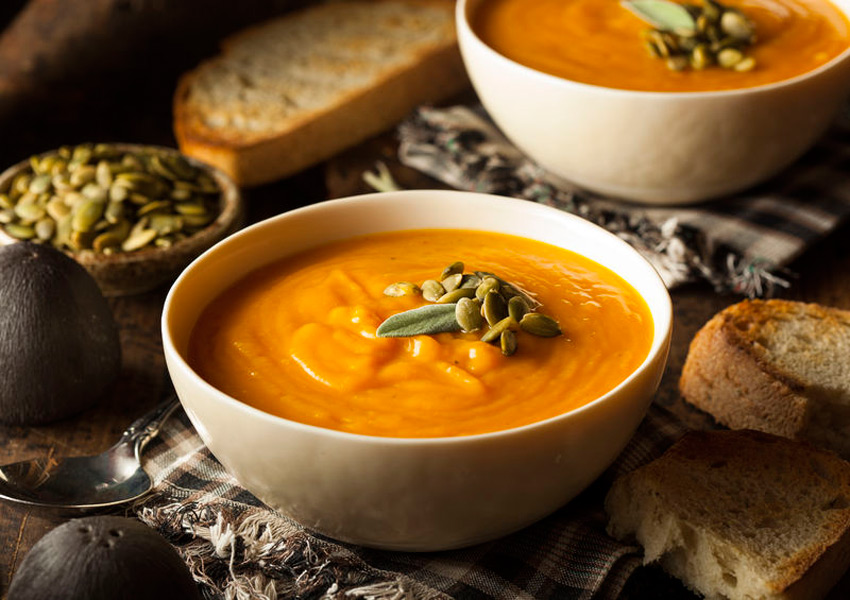 This is an easy and warming squash soup with a twist.
Yield: 8 servings
Ingredients
3 tablespoons extra-virgin olive oil
1 dried ancho chile, stemmed and seeded
2 shallots, chopped
1 butternut squash, peeled, seeded and chopped (about 7 cups)
2 teaspoons ground cumin
Kosher salt
2 teaspoons agave nectar or honey
Juice of 1/2 lime
Roasted salted pepitas and cayenne pepper or chili powder, for topping
Directions
Heat the olive oil in a large pot over medium-low heat. Add the ancho and cook, turning, until toasted, about 1 minute. Add the shallots and cook, stirring occasionally, until softened, about 3 minutes. Add the squash, cumin and 1 teaspoon salt, stirring to coat. Add 6 cups water and bring to a boil; reduce the heat to medium low and simmer until the squash is tender, 25 to 30 minutes.
Working in batches, transfer the soup to a blender and puree until smooth (or puree in the pot with an immersion blender). Return the soup to the pot; stir in the agave and lime juice. Season with salt and thin with water as needed. Top each serving with pepitas and sprinkle with cayenne.
Recipe courtesy of Food Network Magazine