St. Louis Dinner Catering Menu
Championship Catering offers a complete array of salads, entrees, sides and desserts to suite any dinner occasion. From buffet-style to sit-down dinners, we provide five-star service, elegant presentation and delicious tasting meals for you and your guests… all at an affordable price! Do you have a themed event or party? We can prepare many authentic world cuisines such as Caribbean, Hawaiian, Mediterranean, Mexican, Asian and more. Championship Catering will customize a completely unique menu just for you! Don't be bashful, just let us know if you have any food allergies or special requests. We are here to cater to you!
Chicken Broth
Chicken broth with hunks of chicken and vegetables with choice of noodles, rice, kreplach or matzo balls.
Cream Soup
Cream-based soup with choice of artichokes, broccoli, spinach, asparagus, mushroom, cauliflower and more.
Chicken, Tomato and Basil
Turkey & Wild Rice
Sweet & Sour Cabbage
Beef Vegetable
Clam Chowder
Beer Cheese
Seafood Gumbo
Chili
White Chili & Chicken
House Salad
Tomato, Cucumber, Croutons and your choice of Dressing.Catered Salad
Italian Salad
Mixed Greens with Red Onions, Tomatoes, Parmesan Cheese in a golden, Italian Dressing.
Caesar Salad
Romaine Lettuce with Parmesan Cheese, Croutons in our own Caesar Dressing.
Greek Salad
Mixed Greens with Red Onions, Olives, Tomatoes, Cucumbers in a Feta Vinaigrette Dressing.
Spinach Salad
Spinach Lettuce with Mushrooms, Eggs, Tomatoes, Spanish Onions in a Bacon Vinaigrette.
Bbq Chicken Pasta Salad
BBQ Chicken with Black Olives, Cherry Tomatoes, Served Over Penne Noodles with Olive Oil and fresh Basil.
Cobb Salad
Traditional-style with diced Eggs, Bacon, Cheese, Chicken and Tomatoes with your choice of Dressing.
Chef Salad
Mixed Greens with sliced Ham, Turkey, Roast Beef, Cheddar and Swiss Cheese, Tomato and Egg with your choice of Dressing.
Seafood Salad
Mixed Greens with Shrimp, Crab, Scallops, Cheddar Cheese, Cucumbers and Tomatoes.
Insalata Carrabba Salad
Roma Tomatoes, Red Onions, Fresh Mozzarella Cheese, Basil topped with Oil and your choice of Red or Balsamic Vinegar.
Grilled Vegetable Salad
Broccoli, Cauliflower, Carrots, Celery, Zucchini, Peppers, Mushrooms, Eggplant and Tomatoes well seasoned and marinated, then grilled and served over a bed of fresh Greens.
Potato Salad
Slaw
Pasta Salad
Assorted Olives In Feta Vinaigrette
Poultry
Chicken Piccata
Chicken Marsala
Chicken Cacciatore
Chicken Etouffee
Chicken Spiedini
Rosemary Chicken
Champagne Chicken
Teriyaki Chicken
Sweet & Sour Chicken
Spinach Herb Cheese Stuffed Chicken with a Mornay Sauce
Fried, Grilled or Baked Chicken
BBQ Pulled Chicken
Chicken Kabobs
Stuffed Cornish Hens
Hand-carved Turkey
Sliced Turkey in a Mushroom Gravy
Beef
Hand-carved Tenderloin with Au Jus and Horseradish Sauce
Prime Rib with Au Jus and Horseradish Sauce
Sliced Beef in Au Jus
Beef Pepperloin
Top Sirloin, Strip or Filet
Tenderloin Kabob
Veal Spiedini
Veal Marsala
Veal Piccata
Provini Calves Liver
BBQ Beef
Braised Cola Beef
Beef Stroganoff
Spare Ribs
Beef Stir-Fry
Burgers, Brats and Hot Dogs
Seafood
Lemon Sole
Tilapia
Baked or Fried Cod
Swordfish
Tuna
Shrimp Scampi
Grilled Salmon with Dill Butter
Seafood Kabobs
Sole Oscar
Pork
Pork Chops
Ham with Pineapple
BBQ Pulled Pork
Hand-carved Pork Tenderloin
Baby Back Ribs
Vegetables
Green Bean Almondine
Bundled Green Beans
Baby Green Beans with Tomatoes in a roasted, Sesame Seed Sauce
Glazed Baby Carrots
Amaretto Carrots
Peas & Carrots
Peas & Mushrooms
Snow Peas with Red Peppers
Vegetable Medley
Stir-Fry Vegetables
Marinated, Grilled Vegetables
Broccoli with Cheese Sauce
Corn on the Cob
Corn O'Brien
Eggplant Ratatouille
Asparagus with Hollandaise
Tomato Provencal
Crisp Tomatoes in spicy, Tomato Sauce
Baked Beans
Potatoes
Rice Pilaf
Saffron Rice
Wild & Long Grain Rice
Mashed Potatoes with Gravy
Twice Baked Potatoes
Baked Potatoes with "The Works" Toppings Bar
Baby Baked Potatoes with Chives and Caramelized Onions
Red Potatoes in Scallion Butter
Sautéed Rosemary Potatoes
Garlic Roasted Potatoes
Parsley, Mushroom Potatoes
Roasted Orange Sweet Potatoes
Au Gratin Potatoes
Pasta
Spaghetti Bolognese
Fettuccine Alfredo
Pasta Con Broccoli
Baked Mostaccioli with Meat Sauce or Marinara Sauce
Penne in Oil with Basil and Garlic
Cookies
Brownies
Éclairs
Assorted Sheet Cakes
Assorted Layer Cake
Chocolate Lava Cake
German Chocolate Cake
Chocolate Cake
Carrot Cake Lemon Bars
Pecan Pie
Pumpkin Pie
Key Lime Pie
Coconut Cake
Assorted Cobblers
Assorted Petit Fours
Fruit Torts
Sundae Bar
Smoothie Bar
Banana Flambé
Strawberry Jubilee
Fresh Fruit Kabobs with Strawberries in Amaretto Cream Sauce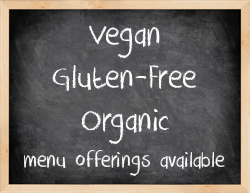 Looking for more options?
We cater to you! Championship Catering can accommodate any food allergies or dietary restrictions – at no extra charge. We can mix and match or customize any menu to fit your event. Contact us today to discuss your ideas!